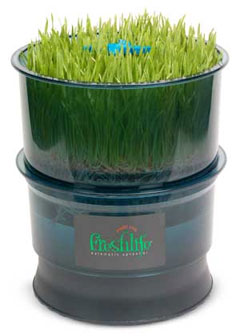 RETAILS FOR $129 OUR PRICE $99.
8OZ BAG OF ORGANIC BROCCOLI SEEDS WITH PURCHASE ONLY $10.
Free shipping for continental 48 states only. Shipping to Alaska, and Hawaii is $25. Call for Canada.
A Detailed Look


Top Lid
Helps maintain an ideal temperature for rapid growth



Sprinkler
Sprinkles water and supplies air.



Seed Trays
The Seed Trays have two different sized tabs on the bottom and top.
The side with the larger sized tabs should always face upward.
Upper Tray : Shown w/ Larger Tabs upward. (Laid on top of seeds.
Lower Tray : Shown w/ Larger Tabs upward. (Where seeds are spread.



Water Tube
Channels water to the sprinkler



Sprout Barrel
Sprouts are grown in here



Water Barrel
Reservoir and supplies water for cultivation.



Water Pressure Control Tube
Controls the quantity of water



How to Control Water Pressure
As seen in the drawing, turning the control knob to clockwise will decrease the water pressure and to counter clockwise will increase the pressure.



Motor Chamber
Holds a specially designed pump with a temperature sensor.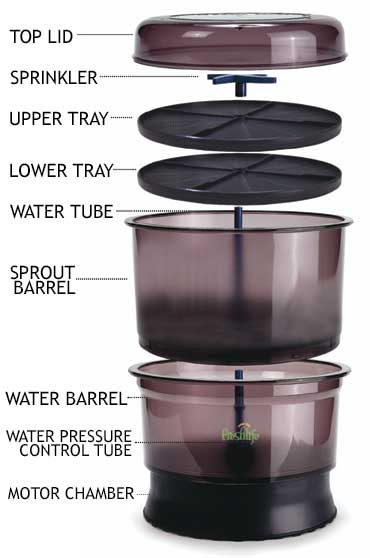 Special Features of the "FreshLife Sprouter"


FreshLife Sprouter is for indoor use only in room temperatures of 65°F
to 85°F(18.3°C ~ 29.4°C) for the sole purpose of growing sprouts
and cereal grasses, and for no other purposes.



FreshLife Sprouter features an automatic sprinkling system to produce
fresh, nutritious and tender sprouts.



FreshLife Sprouter is inexpensive to operate and easy to clean



FreshLife Sprouter enables you to enjoy nutritional natural food
all year round.



FreshLife Sprouter enables you to grow your own nutritional sprouts
and wheatgrass! Wheatgrass has been proven to be one of the
most nutritional foods on the earth
Optional Expansion Sprout Barrel Set


Sprout Barrel


Upper Tray


Lower Tray


Water Tube Assembly


Stainless Steel Clips
Allows you to grow twice as many sprouts!